home

about/contact
Digital Audio Insider is David Harrell's blog about the economics of music and other digital content. I write from the perspective of a musican who has self-released four albums with the indie rock band the Layaways.

My personal website has links to my LinkedIn and Google+ pages and you can send e-mail to david [at] thelayaways [dot] com.

Support
If you enjoy this site, please consider downloading a Layaways track or album from iTunes, Amazon MP3, Bandcamp, or eMusic. CDs are available from CD Baby and Amazon.

links

music/media/tech:
Analog Industries
Ars Technica
AppleInsider
Brad Sucks Blog
Broken Record
Digital Music News
Duke Listens
Future of Music Coalition Blog
Hypebot
LA Times Technology Blog
The ListeNerd
Medialoper
Mediashift
MP3 Insider
Music Ally
Music Machinery
Music Think Tank
MusicTank
The Music Void
New Music Strategies
Online Fandom
Pakman's Blog
RAIN
Rough Type
RoughlyDrafted
Swindleeeee
TuneTuzer
Virtual Economics

economics/markets:
The Big Picture
Core Economics
Freakonomics
The Long Tail
Marginal Revolution
The Undercover Economist

mp3/music:
17 Dots
3hive
Fingertips
Shake Your Fist
Sounds Like the 80s
Unleash the Love

archives
January 2006
February 2006
March 2006
April 2006
May 2006
June 2006
July 2006
August 2006
September 2006
October 2006
November 2006
December 2006
January 2007
February 2007
March 2007
April 2007
May 2007
June 2007
July 2007
August 2007
September 2007
October 2007
November 2007
December 2007
January 2008
February 2008
March 2008
April 2008
May 2008
June 2008
July 2008
August 2008
September 2008
October 2008
November 2008
December 2008
January 2009
February 2009
March 2009
April 2009
May 2009
June 2009
July 2009
August 2009
September 2009
October 2009
November 2009
December 2009
January 2010
February 2010
March 2010
April 2010
May 2010
June 2010
July 2010
September 2010
October 2010
November 2010
December 2010
January 2011
February 2011
March 2011
April 2011
May 2011
June 2011
July 2011
August 2011
September 2011
October 2011
November 2011
December 2011
January 2012
February 2012
April 2012
May 2012
June 2012
August 2012
October 2012
November 2012
December 2012
January 2013
February 2013
March 2013
June 2013
August 2013
February 2014
March 2014
September 2014
December 2014
March 2015


March 16, 2015

Beats Music Beats Spotify
by David Harrell
---
In terms of subscribers and market share, Beats Music (acquired by Apple as part of its purchase of Beats in May of last year) is way behind Spotify. But there's one area where Beats Music appears to be ahead -- the per-stream payout to artists/labels.

The first payouts from Beats Music just appeared in my CD Baby account. After adjusting for CD Baby's commission, for December 2014, we received 1.801 cents per stream. For comparison, our per-stream payout from Spotify averages out to 0.428 cents for the past few years:




On its support site, Beats states that its payout rate will higher than that of other streaming services as, unlike Spotify, it has no free option:
We pay higher royalties than the other services because we are a paid subscription-only service (in other words, we have no free version of our service that we have to subsidize).
The payouts we've received from Spotify have varied greatly, as some are coming from premium subscribers and some from free subscribers. For the latter, the payout amount is based on a share of advertising revenue and is very small. However, our initial payout from Beats included two rates -- approximately 1.926 cents for some streams and 1.300 cents for others.

My only guess here is that the higher rate is for listens by monthly subscribers who pay $9.99 a month (or $119.88 a year) and the lower rate for listens from annual subscribers who pay $99.99 a year, though the payout difference is greater than the pricing differential for the two plans.

Labels: Apple, Beats Music, Spotify, streaming royalties

link 0 comments e-mail listen to the Layaways on Spotify






December 10, 2014

Free Holiday Music from the Layaways
by David Harrell
---
My apologies for the light blogging in 2014 -- you can expect more frequent updates in 2015!

If you're in the mood for some holiday music, "Maybe Next Year" from my band the Layaways is available for free download from NoiseTrade:


You can also stream the album at Spotify.

Labels: holiday music, The Layaways

link 0 comments e-mail listen to the Layaways on Spotify






September 18, 2014

Punching U2's Gift Horse in the Mouth
by David Harrell
---

Zack Huggins/Flickr

Andrew Sullivan has a good roundup of opinions on U2's "junk mail" (to quote Bono) distribution strategy. It links to a post from Marco Arment, who wonders why U2/Apple just didn't go with an opt-in strategy, instead of the opt-out approach that was used.

However, U2 and Apple actually did that back in February, with a 24-hour free iTunes giveaway of the song Invisible, which resulted in more than 3 million downloaded tracks. My guess is that the band already had a decent idea of how many downloads might result from an opt-in strategy and wanted to go bigger.

There's no going back on that decision, as the mandatory gift horse is already out of the barn. So we're left with the following question: Was this a better strategy, in terms of money and listeners, for U2 than a standard album release?

According to Wikipedia, the band's last album, No Line on the Horizon, sold more than five million copies worldwide. An impressive number, but it's less than each of their three previous albums. We don't know how much U2 and its label received in payment from Apple, but solely from an attention standpoint, it seems safe to assume that Songs of Innocence is receiving a wider listening audience. (And Billboard's Glenn Peoples notes that the band's back catalog is getting a boost as well.) Though given the backlash, it also seems safe to assume this will be the last time the approach is used.

One final thought: Given my age/demographic it seems impossible, but a large proportion of the complaint Tweets about the album listed here are from people who apparently were previously unaware of U2! link 0 comments e-mail listen to the Layaways on Spotify






September 09, 2014

U2: It's Free for You, But We Got Paid
by David Harrell
---
In a post on the band's website, Bono makes it clear that the free album is a giveaway from Apple, not U2:
It's also free to everyone on iTunes thanks to Apple. To celebrate the ten year anniversary of our iPod commercial, they bought it as a gift to give to all their music customers. Free, but paid for. Because if no-one's paying anything for it, we're not sure "free" music is really that free. It usually comes at a cost to the art form and the artist...which has big implications, not for us in U2, but for future musicians and their music...all the songs that have yet to be written by the talents of the future...who need to make a living to write them.
So did U2 (and Island Records) receive a flat fee for distribution of the album to more than 500 million iTunes customers, or is Apple paying a per-download amount, based on the number of iTunes customers who actually receive the album? Either way, with cash reserves of more than $160 billion (as of June), Apple can certainly afford it.

Update: According to this NY Times story, it was a flat fee:
To release U2's album free, Apple paid the band and Universal an unspecified fee as a blanket royalty and committed to a marketing campaign for the band worth up to $100 million, according to several people briefed on the deal.
link 0 comments e-mail listen to the Layaways on Spotify






March 04, 2014

More Thoughts on iTunes Radio and Music Sales
by David Harrell
---
After an e-mail discussion with my bandmate Porter about last week's iTunes Radio post, I'm wondering if there are two factors in play here:

1. It's certainly possible that iTunes Radio listeners are buying more music than they would have otherwise purchased.

2. But music purchasers might be a shrinking group. That is, as more people use Spotify and other "on demand" streaming services, the total number of music fans who feel the need to own any specific song is getting smaller.

Hence, iTunes Radio could be increasing music purchases among its listeners, but any such gains aren't enough to offset the overall trend of decreasing download sales. (This is all conjecture on my part, but it reconciles the intuitive idea that iTunes Radio listeners would be more likely to purchase downloads with the continued decline in music download sales since its introduction.)

Labels: Apple, iTunes Radio, music sales, Spotify

link 0 comments e-mail listen to the Layaways on Spotify






February 28, 2014

Does iTunes Radio Increase Music Sales?
by David Harrell
---
Back in 2009, my band the Layaways released a digital-only holiday album. While we sell some tracks from the album every year, 2013 was, by far, our best season ever for download sales. I was stumped -- we always get some holiday airplay on Internet stations like Soma FM and the occasional spin of a few tracks on terrestrial college radio stations, but there was no evidence of increased airplay in 2013 and we hadn't made any additional promotional efforts for the album.

The mystery was solved when someone tweeted that he had discovered the record via iTunes Radio. Our version of "O Christmas Tree" had been added to the "Rockin' Holiday" station, where it was receiving regular spins: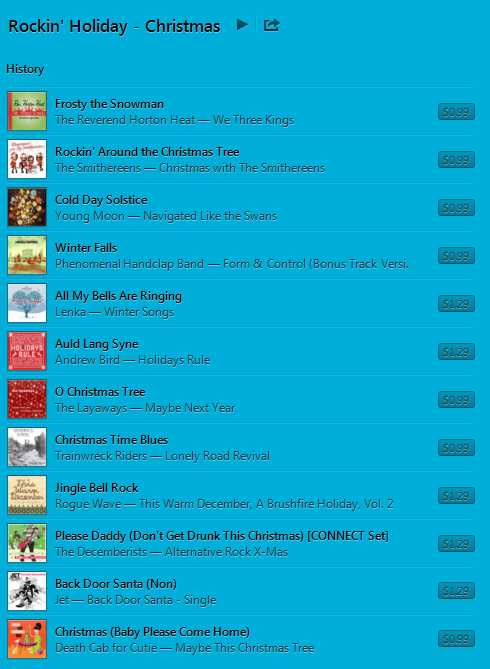 It seems very likely that the large increase in sales of our song (relative to previous years) was a direct result of the iTunes Radio spins it received. The big question, of course, is does this single anecdotal example represent an overall trend -- is iTunes Radio increasing the sales of music downloads?

It seems intuitive that ease of purchase -- you're already in iTunes and you can click to buy right there, as opposed to being directed from another website or interface to iTunes or Amazon MP3 -- might boost sales. Yet that doesn't appear to be the case. As Glenn Peoples reported in Billboard last year, the introduction of iTunes Radio did nothing to halt a year-long trend of declining download sales in 2013.

In our case, iTunes Radio was a net positive, because more than 100,000 listeners heard a song they probably wouldn't have otherwise known about, and a small percentage of those listeners purchased the track. But as noted in Billboard, a recent study by Music Forecasting makes the case that listeners are using iTunes Radio for a "lean-back" passive listening experience, one that is unlikely to result in large increases in music purchases. (The full PDF of the report is here.)

In addition to the download sales, we also received a payout from Apple for each spin of the song. As reported last year by the Future of Music Coalition and Digital Music News, Apple opted to make a direct payment to artists/labels for digital performance royalties instead of taking the compulsory path and making payments to SoundExchange.

For 103,874 spins of "O Christmas Tree" on iTunes Radio, we received $114.99 (before the deduction for CD Baby's commission). That translates to a little more than 0.11 cents per play. That's slightly less than the "$0.0013 per song plus 15% of net advertising revenue for the first year" spelled out by Apple's contract with indie labels, though I'm uncertain if that rate also includes payments Apple makes to music publishers. After I receive my BMI statement for the quarter, I can calculate the total payment we received for each iTunes Radio play.


Labels: Apple, holiday music, iTunes Radio, music sales

link 0 comments e-mail listen to the Layaways on Spotify






August 26, 2013

Some Advice for Writers...
by David Harrell
---
...that probably goes for musicians as well:
"Also get a job; eating is a good habit and you will never make enough of a living as a writer to support a family. Be honest with yourself about the size of your gift. Expect no money but be diligent about sending pieces out for publication. All money is gravy."
-- Brian Doyle, via the Dish.

One downside of digital music stores, which provided instant worldwide music distribution to anyone who wanted it, is that they also introduced a new level of expectations for musicians. Before digital music, a local band might sell some tapes or CDs at gigs or a friendly record store, but there was zero expectation that music sales would provide any real income. However, having your music available to the entire world creates the hope that people around the world are going to buy it. Yet the overwhelming majority of self-released musicians (as well as most musicians on major labels!) simply aren't going to sell a lot of music.

Labels: music sales, self-released musicians

link 0 comments e-mail listen to the Layaways on Spotify






June 17, 2013

I'm In with the In Crowd
by David Harrell
---
A presentation by Alan B. Krueger, Chairman of the Council of Economic Advisers for the White House, highlights an experiment that confirms something I've long believed to be true -- that listener perceptions of the popularity of a song have a huge influence on its actual/subsequent popularity:
Now let's see what happened when the download counts were flipped, so that the new participants thought the least popular song was actually the most popular. As you can see, the download count for the least popular song grew much more quickly when it was artificially placed at the top of the list. And the download count for the most popular song grew much more slowly when it was artificially placed at the bottom of the list.

In the alternative world that began with the true rankings reversed, the least popular song did surprisingly well, and, in fact, held onto its artificially bestowed top ranking. The most popular song rose in the rankings, so fundamental quality did have some effect. But, overall -- across all 48 songs -- the final ranking from the experiment that began with the reversed popularity ordering bore absolutely no relationship to the final ranking from the experiment that began with the true ordering. This demonstrates that the belief that a song is popular has a profound effect on its popularity, even if it wasn't truly popular to start with.
More good stuff here.


Labels: consumer behavior, music popularity

link 0 comments e-mail listen to the Layaways on Spotify




More Digital Audio Insider: Older Posts
Subscribe:
RSS Feed


Add this blog to Del.icio.us, Digg, or Furl. Follow David Harrell on Google+.





The Digital Audio Insider Twitter feed:
---
Digital music jobs: Looking to hire? Looking for a job? Check out the digital audio insider job board.


---
Popular Posts

A Long Tail Experiment
By the Numbers: Using Last.fm Statistics to Quantify Audience Devotion
Lala.com Owes Me Sixty Cents
An Interview with Jonathan Segel of Camper Van Beethoven
Price Elasticity of Demand for McCartney
Sony and eMusic: What I Missed

The Digital Pricing Conundrum series:
Part One Part Two Part Three Part Four


---
---
THE LAYAWAYS

Out Now -- "Maybe Next Year" -- The New Holiday Album:



"This is a sweet treat, deliciously musical without being overbaked for mass media consumption." -- Hyperbolium

"Perfect listening to accompany whatever holiday preparations you may be making today." -- Bag of Songs

O Christmas Tree - free mp3 lyrics and song details
Away In A Manger - free mp3

Download from eMusic, iTunes, Amazon MP3, or Bandcamp. Listen to free streams at Last.fm.


---




"...about as melodic and hooky as indie pop can get." -- Absolute Powerpop

"Their laid-back, '60s era sounds are absolutely delightening." -- 3hive

"...melodic, garage-influenced shoegaze." -- RCRD LBL

Where The Conversation Ends - free mp3
January - free mp3
Keep It To Yourself - free mp3

Download from eMusic, iTunes, Amazon MP3, or CD Baby, stream it at Last.fm or Napster.


---




"The Layaways make fine indie pop. Hushed vocals interweave with understated buzzing guitars. The whole LP is a revelation from the start." -- Lost Music

"Catchy Guided by Voices-like rockers who lay it on sweetly and sincerely, just like Lionel Richie." -- WRUV Radio

Silence - free mp3 lyrics and song details
The Long Night - free mp3

Download from eMusic, Amazon MP3, or iTunes, stream it at Last.fm, Napster, or Rhapsody.


---


"These are songs that you want to take home with you, curl up with, hold them close -- and pray that they are still with you when you wake up." -- The Big Takeover

Let Me In - free mp3
Ocean Blue - free mp3

Download from eMusic, Amazon MP3, or iTunes, stream it at Last.fm, Napster, or Rhapsody.

More Layaways downloads:


the layaways website